Phantom Peak by Diane J. Reed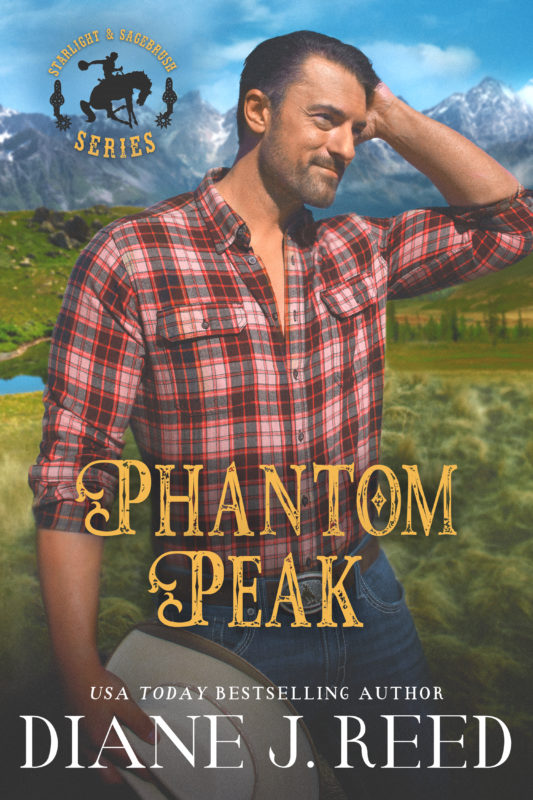 Phantom Peak is Book 2 in the Starlight & Sagebrush Series.
About the Book :
Finding "forever love" takes on a whole new meaning when it entails unlocking the secrets of Bandits Hollow's ghosts…Devastatingly handsome Hayes Sellier comes from a long line of ranchers who love to roll up their sleeves and put in a hard day's work. So it comes as a big surprise to Hayes when he inherits the town's grand Victorian opera house, which is filled to the rafters with exquisite antiques.
The problem? It's also filled with ghosts…
Along with a very sexy antique dealer named Amber Rove who claims the Town Council sold her all the furniture inside the building for a fundraiser. When these two lock horns over ownership of the salvage, their passion and chemistry fire hotter than a branding iron. Only Granny Tinker holds the wisdom to guide them toward their timeless love story that rivals even the town's most legendary outlaws.
My Review :
First of all let's talk about this awesome book cover. I love the amazing background that perfectly conveys the beautiful setting of the story. Also the very handsome cowboy on the front. My favorite things about the paperback though is that it says the main character's name "Hayes" on the spine and has that lovely Starlight & Sagebrush stamp on front. Definitely makes me want to own the physical copies of these books! Okay, so onto what I thought about the story...
I don't think I can express how much this author's writing just grabs me. Each story feels so special, vivid, and magical. Phantom Peak is a wonderful contemporary cowboy romance with magical realism and lots of heart. The main characters Amber and Hayes, have so much spark right from the start. Even when he's laughing and making her mad lol. I love their witty banter together and how they just seem to complement each other so well and I can't talk about how much I love Phantom Peak without mentioning Hayes' spunky uncle Lester. He's such a fun character and I love how he takes an instant shine to Amber. There were several times that Lester actually made me cry, I felt so attached to him. His deep devotion to Gloria was so heartwarming. Of course it goes without saying that Bandits Hollow is just such a special place to me and I love every time I get to visit it through Reed's stories. All of the characters have a very special place in my heart and I always cherish my time with them (especially Granny Tinker), it was also very cool to get to meet some of Bandits Hollow's Opera House ghosts. I highly recommend Phantom Peak to cowboy romance lovers, especially those who enjoy magical realism. It can be read as a standalone, but I think it'd be a shame to miss out on any of these amazing books.
** I received this book from the author. This is my voluntary and honest review. **