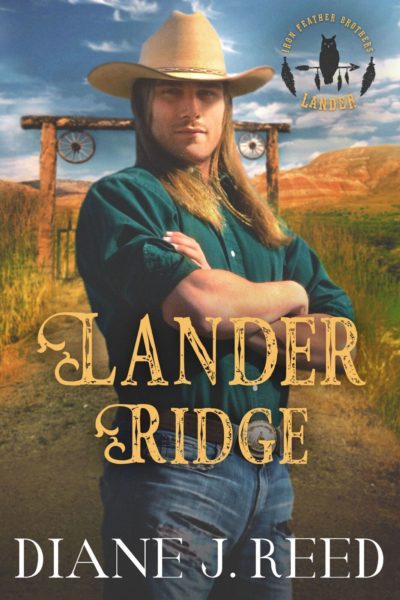 Book description from the author's website:
For the cutthroat cowboy who wins at everything, losing his heart to the only woman who can reach his soul is the greatest risk of all…
Lander Iron Feather's fierce business strategies have made him one of the richest ranchers in the West, dominating all that he touches. But when the beautiful former model Nicky Box returns to Bandits Hollow to reform the Wilson Ranch School for Wayward Boys and Girls, suddenly Lander is forced to face the terrible abuse he suffered there as a teen. Lander's seething hatred for the school's wealthy owner is largely responsible for fueling his business success, yet now he has the chance to combine forces with Nicky to turn the place around for the sake of the school's orphans. But doing so means opening his heart—to the kids, to the wounds inside himself, and most of all, to Nicky. When the school is confronted with a shocking closure, Lander must dig deep inside to redefine what "winning", and the magic of falling in love, really means.
My review:
Lander Ridge is stunning, magical, and compelling. I absolutely love Diane J. Reed's writing style. As with her previous books, Lander Ridge instantly transported me into the story with the almost tangible scenes. There is one word in particular that seems to come to mind... mystical. It's just this overwhelming sense of magic and wonder that flows throughout the entire story. It's like I'm there and can feel the chills when I hear the owl's call, or the amazement when something beautiful and haunting happens. The characters are some of my all-time reading favorites. I was super excited to get to know Lander better in this book after getting glimpses of him in the previous two. It was also fun to catch up with Dillion, Barrett, and their ladies a bit as well. Getting back to Lander though, he is such a tortured soul who is more than just a bit rough around the edges, but with a secretly kind and longing heart. *SWOON!* I love how easily the author seems to be able to weave together the past and make the characters destiny seem so amazingly intertwined. I can definitely tell she believes in soulmates and it shines through in her writing. The witty banter is probably my favorite part and actually had me smiling while I read. My husband wanted to know what I was smiling so big about lol. Although there are definitely some heart wrenching moments as well that had me very emotional. I was entranced from the first page to the last. I highly recommend Lander Ridge!
P.S. I loved reading the author's note at the end of the book about the sacred trees. So cool! Make sure if you read Lander Ridge to check that part out too.
** I received this book from the author. I voluntarily chose to write this honest review.**